All the RE5 Topics in our online course can be downloaded in pdf format. Downloading the study material from our Learning Management System is easy. Once your registration for the RE5 Online Course is finalised you will receive an email confrimation. To book access to our RE5 Online Course click HERE or send us an email to re5@siraacademy.co.za
eft purchase for PDF study material - If you prefer not to register for the Online Course you can purchase the PDF Study Guide by depositing or making an EFT payment to the following bank account:
Sira Academy (Pty) Ltd
Account no. 10109298835
Standard Bank
Branch - Sandton City
Current Account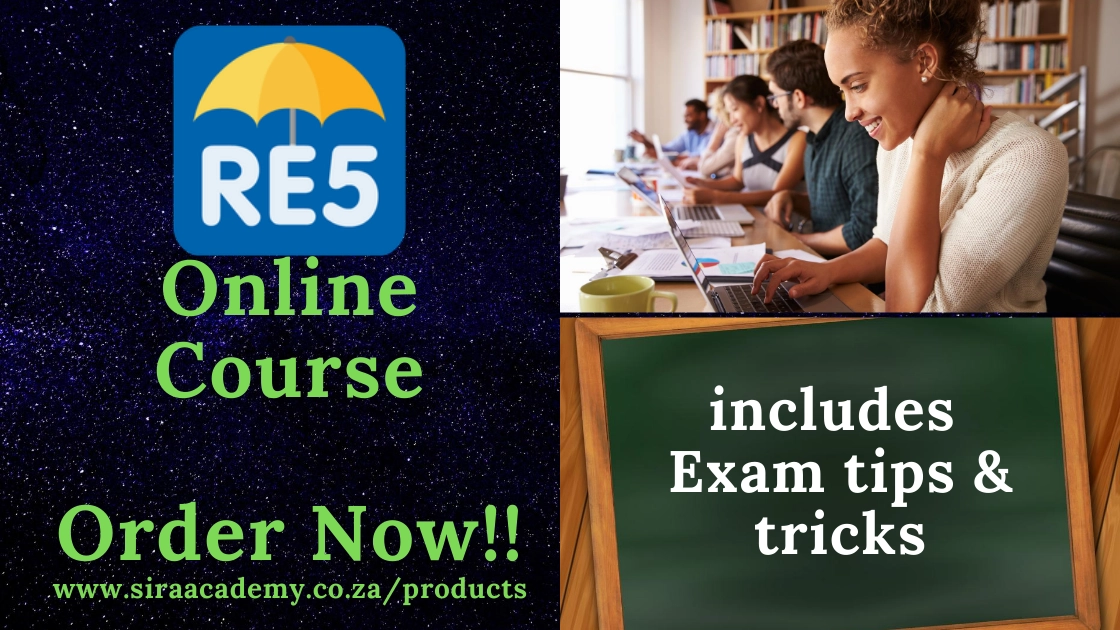 RE5 Study Material
Study materials are the most important for RE5 EXAM preparation. If you get the best study materials, then the chances of passing the RE5 Exam are increased. Many people who write re5 exams tend to underestimate the importance of proper preparation for these professional exams, hence there is a large number of re5 fails. sira academy has prepared easy to follow study guides simplified versions of the Bankseta or Inseta Study Material. Our re5 training and re5 online course includes study guides (developed from re5 study material 2018 inseta and re5 study material 2019) which are matched to our re5 questions and answers (these are re5 mock exam with levels of difficulty similar to the FAIS official re5 exam). Our practice exams can be accessed from this website and our re5 app (available on google play store).
Re5 pdf Study Guide2021

How do you get access to the updated RE5 pdf study guide in 2021?

Three easy steps:

Visit the following pages: https://my-re5.com or https://my-re5.com/re5-study-material/
Process your payment online,
You will be able to download the RE5 pdf study guide 2021 immediately after your payment is successfully processed.

Access the best RE5 study material, 2021 update.

How do you pass the RE5 exam?

The question asked by most representatives entering the financial services industry is often: "How do I pass the RE5 exam the first time?" The RE5 exam has earned the reputation of being one of the most difficult exams in the financial services industry due to the multiple-choice exams format and the complex legislative language. Re5 Exams requires proper preparation and a good study guide, you can pass the exam and continue to climb the ladder of success in financial services.

Even though there is no full-proof method to guarantee a passing grade, experience reveals that a combination of the will contribute to your success:

1. Updated and relevant study material,

2. Access to the latest legislations and board notices,

3. Question papers in the form of Mock Exams – to practice answering multiple-choice questions before attempting the actual exam.

The re5 Qualification

This qualification examines the South African financial regulations relating to market conduct in details, then offers you a chance of progressing in your career as a representative in banking and insurance FAIS related jobs. re5 qualification demonstrates commitment to the financial services industry and it is an appropriate qualification for rendering financial services in a professional manner.

Our vision

We aim to be the first source the financial services community consults for re5 study materials. To this end we create an inviting and intellectually stimulating virtual presence that enhances the study and learning experience.

Our library

We promote research and learning in regulatory exams by providing e-learning services that allow users to find and obtain the information they need easily and effectively; by maintaining strong collections; by permanently improving and simplifying study materials; and by improving methods to access material in all forms for the financial services community.

Terminology related to regulatory exams includes unfamiliar, specialised, or made up word or terms, our glossary serves as a dictionary for the representatives and the entire financial services community. We constantly improve the effectiveness of our glossary to serve as a guide and to provide information for representative to understand how and when the terms should be used.